Back to Events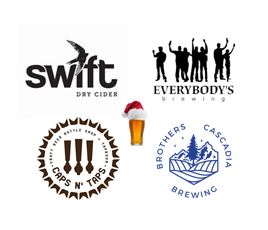 Everybody's/Swift/Brother's Cascadia: Holiday Kickoff Party
On the first day of Christmas my true love gave to me… a beer and cider Holiday Party!
Thursday, December 13th 5-8pm
*Bring: A wrapped bottle of beer for secret Santa beer trade! ($4-$8 beer)
*Try some awesome beer/cider such as Everybody's "Bourbon Barrel Aged Imperial Cherry Red", Swift "Tan Tan Wonderland", Brother's Cascadia Sleigh Tipper, and Everybody's/Lanikai Brewing Colab "Everybody's Hi"
*Win some cool stuff from Everybody's Brewing, Brother's Cascadia Brewing, and Swift Cider.
*Enjoy some complimentary homemade holiday treats!